Organizer: Asia Society
Venue: 725 Park Avenue
Address:

725 Park Avenue (at East 70th Street)




New York

,

United States
Get Directions
Add to Calendar
12/18/2013 06:30 PM
12/18/2013 08:00 PM
America/New_York
Ramen Fever II
More detail: https://apa.nyu.edu/event/ramen-fever-ii-asia-on-the-table/
725 Park Avenue, New York
Social media has played a huge role in turning dishes like the Cronut and Keizo Shimamoto's ramen burger into seriously craved food sensations. With the ability to guide their audience's expectations through photos and commentary, chefs encourage their customers to explore innovative and adventurous flavors and combinations. By responding with photos and reactions of their own, customers join the conversation. It's within this context that the Asia Society hosts a discussion with Shimamoto about ramen and its delicious ascent to the top of the social media food pyramid. The program will be followed by a tasting reception at 8:00PM.
Co-sponsored by the Asian/Pacific/American Institute at NYU.
Keizo Shimamoto is a renowned ramen chef and creator of the ramen burger. His transformation from LA-based ramen-blogger to Tokyo-based ramen-chef to Brooklyn-based ramen-sensation has been publicly documented in real-time on his blog goramen.com.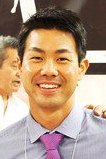 Kenshiro Uki is the third generation to lead his family's ramen noodle manufacturing business, Sun Noodle. He is currently head of operations at its New Jersey factory, which he established in 2012 to bring fresh artisan ramen noodles to New York City and the Eastern United States.

Michael McAteer (moderator) is an award-winning filmmaker and Japanese television personality based in New York City and Japan. He currently hosts a weekly television broadcast, live from NY, on Japan's national public broadcaster, NHK. His film Ramen Dreams won Best Short Film at the 2012 NYC Food Film Festival.